Frying pan - 28 cm - Honeycomb
Custom_USP1

The unique honeycomb pattern helps prevent food from sticking

Custom_USP2

Keeps the fat distributed and forms a natural non-stick ability

Custom_USP3

With fast and even heat distribution - on all heat sources, including induction

Custom_USP4

Easy to clean - dishwasher safe
Delivery from 5 EUR

Free delivery from 89 EUR
Variant: stainless steel
| | |
| --- | --- |
| Color | stainless steel |
| Cleaning | Dishwasher-safe |
| Dishwasher Safe | Yes |
| Heat source | ['Ceramic', 'Electric', 'Gas', 'Halogen', 'Induction', 'Oven'] |
| Material | stainless steel |
| Size | Ø28 cm |
| Height | 5,1 |
| Width | 29,5 |
| Depth | 51 |
| Diameter (cm) | 28 |
| Inductionzone (cm) | 20 |
| Weight | 1,28 |
| Coating | None |
| Designer | Ole Palsby Ltd., Secretariat |
| Brand | Eva Trio |
| Series | Honeycomb |
| Number | 203328 |
| EAN | 5706631220644 |
Description
The honeycomb-base frying pan has a uniquely designed raised pattern to help prevent ingredients sticking to the base. The waffle-texture surface keeps cooking oil and fat evenly distributed underneath foods for a natural non-stick effect. We recommend heating the pan on medium heat after adding cooking oil or fat. Then turn up the temperature slightly, place ingredients in the pan and adjust to the desired cooking temperature. As soon as your ingredients are seared, they can be moved around and flipped.
Staff pick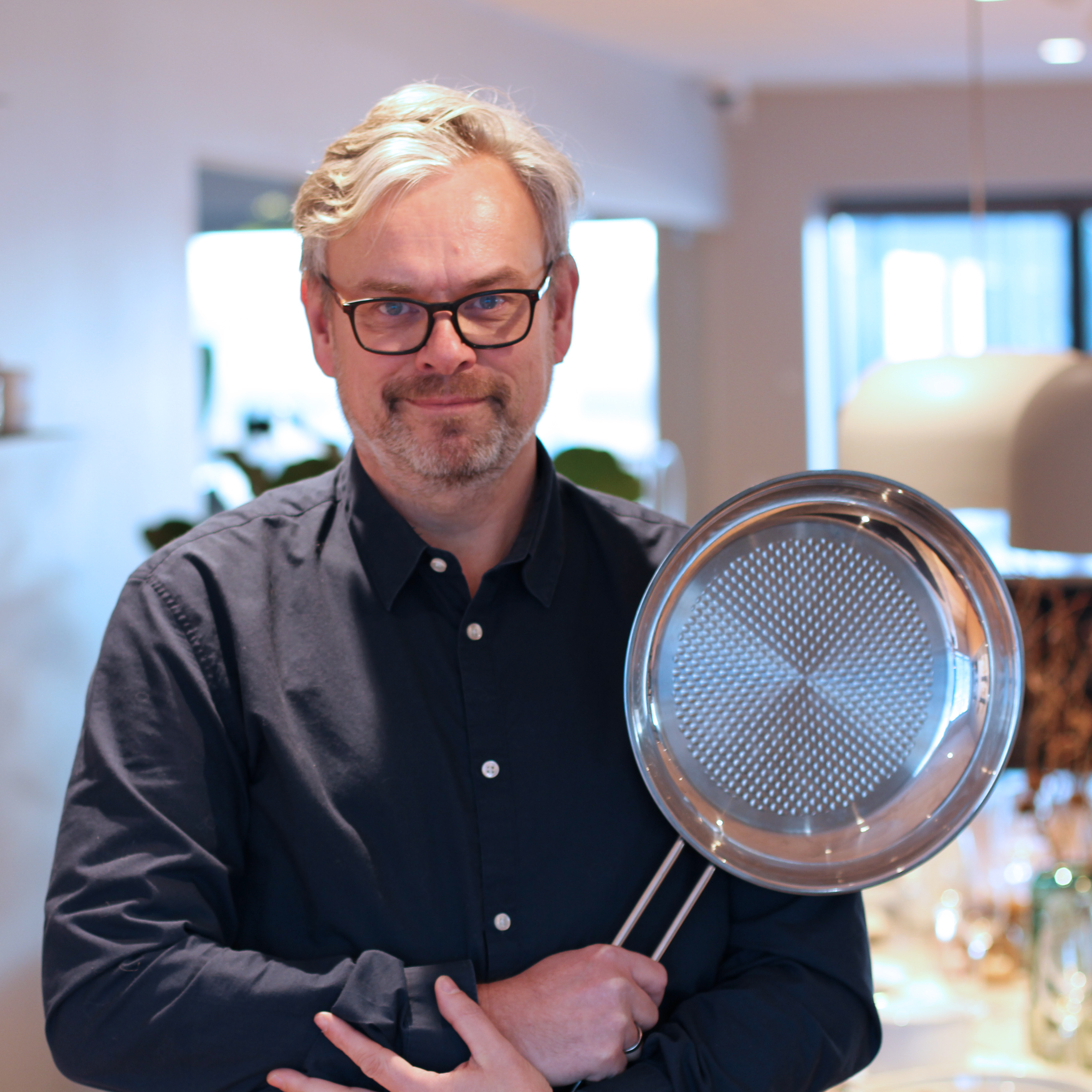 "I've really come to appreciate my stainless steel frying pan with honeycomb base, especially when I'm doing a quick omelette for breakfast. It reacts pretty fast on the hob, and the natural non-stick texturing has really impressed me. I always used to avoid frying pans with no coating, as they usually require more patience in the kitchen (…than I have). But this frying pan is easy to use, as long as I use a bit of fat or oil. The best thing is probably that it pops straight in the dishwasher and comes out clean and shiny every time. I'm confident that this is a frying pan our household won't be wearing out, as all the parts are stainless steel – so we'll be getting years and years of use out of it."
- Jacob Mohr Hansen, Marketing manager at Eva Solo.