By: Frederik Bille Brahe
There is nothing quite as marvellous as sitting down together on a summer evening for a meal of artichokes, where you get to use your hands and really feel the food. Here, the refined green beauties are given a tart contrast and some Middle Eastern vibes.
Ingredients
Artichokes
2-3 artichokes
3-4 l water
40 ml white wine vinegar
30 g salt
2 g black peppercorn
1 clove of garlic
½ lemon, sliced
1 onion
1 carrot
1 bay laurel leaf
1 sprig of thyme
Dressing
100 g tahini
½ pickled lemon
½ clove of garlic
100 g water
35 g olive oil
25 g vinegar
15 g soy sauce
2 g salt
4 g sugar
Topping
1 bunch of basil
Some lemon zest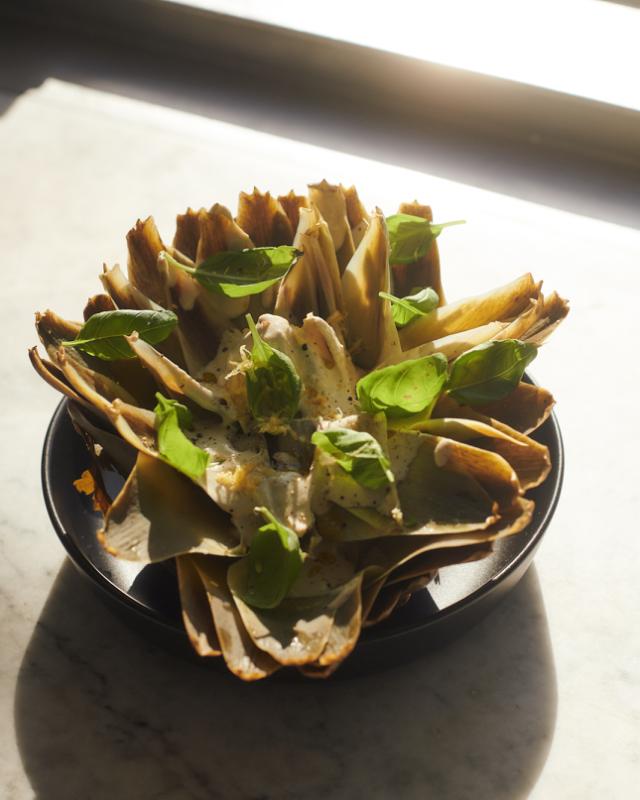 Procedure
Break off the ends of the artichokes, place them in a pot and cover in water. Add the herbs along with the spices and vinegar. Bring to a boil and allow to gently simmer for 20-30 minutes. You can tell if the artichoke is tender by pulling off a leaf and sticking a knife into the heart – the same rule applies here as with potatoes: the heart needs to be soft with a little bit of resistance. Let the artichokes sit in the water until serving.


Add tahini, garlic, water and pickled lemon to a blender (you can easily use a stick blender) and blend until you have a completely homogenous mass, which takes 1 or 2 minutes.


Add the remaining ingredients and blend for another 2-3 minutes. The dressing is ready once it has an airy consistency. Pour into a serving bowl.


Remove the artichokes from their cooking water and allow any excess water to drip off for about 1 minute. Turn them over and spread the leaves so the artichokes look like lotus flowers. Place a couple of large spoonfuls of dressing at the heart of the artichoke, drizzle with a bit of olive oil, some salt flakes, a couple of basil leaves and finally add some lemon zest on top.


Serve immediately with extra dressing. The artichoke is eaten leaf by leaf before the hairs are scraped off the heart using a knife.