Makes 9 – easy recipe – 30 minutes + cooling time | 30 minutes
These mini filled Danish puff-pastry "fastelavnsboller" go perfectly with a cup of coffee or mug of cocoa. Here we filled the buns with a raspberry jam flavoured creamy whip, but you can use your own favourite jam.
Ingredients
1 roll of puff pastry sheet
25 g marzipan
25 g softened butter
1 tbsp vanilla sugar
1 egg
2-3 tbsp cold water
Filling:
1½ dl whipping cream
2 tbsp raspberry jam
1 tsp finely-grated lemon zest
Additionally: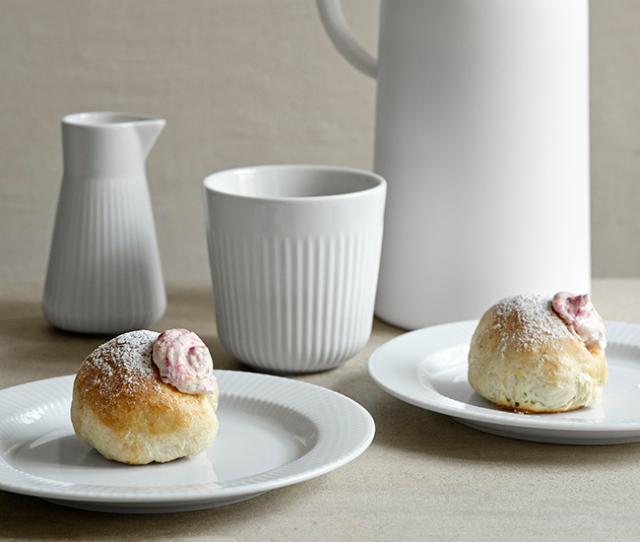 Procedure
Slice the pastry into 9 pieces.
Beat marzipan, butter and vanilla sugar to combine into a paste.
Place a small dab of the marzipan paste in the middle of each pastry piece.
Fold the pastry over the marzipan paste and pinch to seal it tight. Carefully shape the pastry parcels into small buns and place them seal down on a baking tray lined with greaseproof paper.
Brush the buns with egg wash and bake them at 200 degrees C, convection, for 10-14 minutes or until golden brown.
Leave to cool down fully.
Filling:
Whip the cream to soft peaks and fold in the jam. Add lemon zest to taste.
Fill the cream whip into a piping bag with a round nozzle.
Use a sharp knife to make a small hole in the buns and pipe raspberry whip into the buns.
Dust with icing sugar and serve immediately.