4 pcs. | 35 minutes
This is a traditional Danish dish of fried beef patties with soft, caramelised onions. Note that the caramelised onions take some time to prepare! So, start with them, to avoid cold patties. Use minimal fat for frying; the pan design allows you to fry the ingredients without a lot of fat.
Ingredients
Onion:
4 large onions
olive oil
salt
touch of thyme
Beef patties
1 kg minced beef, around 18-20% fat
oil for frying
salt and pepper
Accompaniments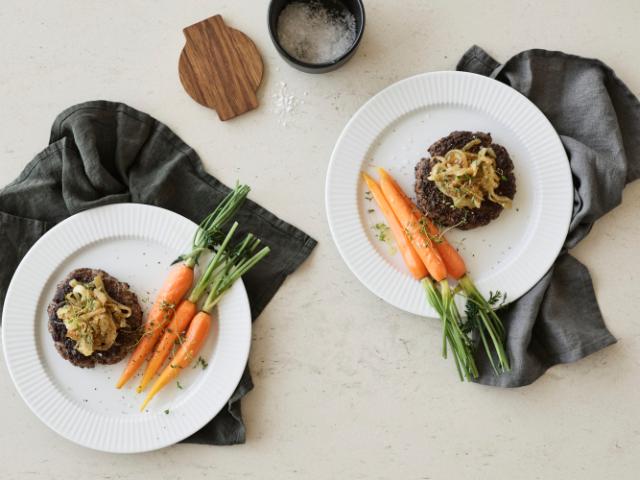 Procedure
Onion
Slice the onions. Lightly brown them until tender in a small amount of olive oil in a hot pan. Fry gently for about 20-25 minutes. Season the onions with salt and thyme.
Beef patties
Divide the mince into four portions and shape four patties. Avoid overworking the mince, and shape it fast by hand or using a burger press.
Fry the patties in oil in a hot pan. Sear at high heat to give the meat a nice browned crust. Turn down the heat as you go if you want your patties well done.
Season the patties with salt and pepper before serving.
To serve
Serve the patties with lots of caramelised onion and steamed greens. For traditional accompaniments, you might like to serve boiled potatoes and gravy as well.
Advice for best results
Minced beef should always be fried until fully cooked. The meat is cooked when the core temperature reaches 75 deg. C.
If you prefer your patty rare or medium rare, mince the beef yourself just before you fry it
Remember that raw meat must always be kept separately from vegetables and other ingredients in the kitchen. Change your chopping board and wash your hands frequently.
Always sear meat at a high temperature so it fries rather than boils. This ensures that you get a nicely browned crust.