Starter to serve 4 | 20 minutes
Ingredients
Furikake
1 dl sesame seeds
4 small dried nori seaweed sheets
1 tsp. flake salt
1 tsp. sugar
1 tsp. chilli flakes
Salmon & avocado
3-400 g smoked salmon in thin slivers
2 avocados, sliced
juice of 2 limes
2 tsp. runny honey
optionally, 1 tsp sesame oil
2 handfuls of basil
artisan bread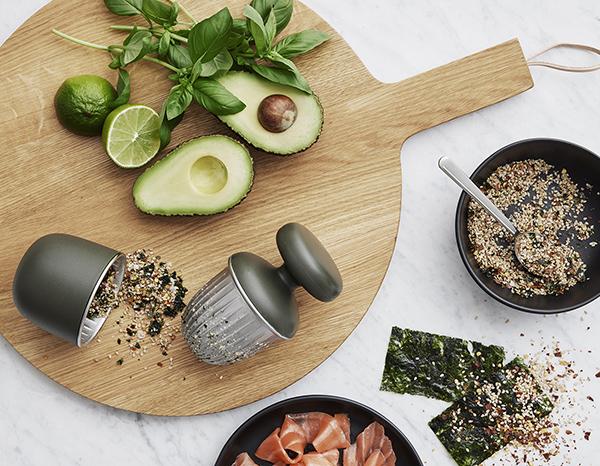 Furikake
Dry-roast the sesame seeds in a hot frying pan for 1-2 minutes until aromatic. Set aside to cool slightly. Add half of the sesame seeds to a spice crusher along with the nori. Crush to combine. Combine with the whole sesame seeds, flake salt, sugar and chilli flakes.
Salmon and avocado
Arrange the salmon and avocado on 4 small plates or a small dish. Stir a little honey and sesame oil into the lime juice. Drizzle the dressing over the salmon and avocado.
Season with furikake and garnish with basil.
Serve immediately with artisan bread.
TIP: Furikake is a Japanese seaweed and sesame seed condiment. Typically sprinkled on salads, boiled rice or steamed fish.