Fridge carafe - 1 liter
Custom_USP1

Fits most fridge doors

Custom_USP2

Suitable for both hot and cold drinks

Custom_USP3

100% drip-free
Delivery from 5 EUR

Free delivery from 89 EUR
| | |
| --- | --- |
| Cleaning | All parts for the carafe are dishwasher-safe. |
| Dishwasher Safe | Yes |
| Material | Borosilicate Glass,Silicone,Stainless steel |
| Lid included | Yes |
| Capacity (liters) | 1 |
| Size | 1.0 l |
| Height | 27 |
| Width | 9 |
| Depth | 5,3 |
| Weight | 0,47 |
| Designer | Tools Design |
| Brand | Eva Solo |
| Number | 567510 |
| EAN | 5706631029940 |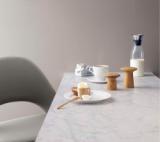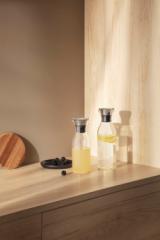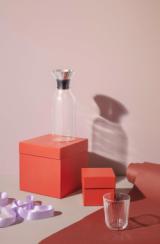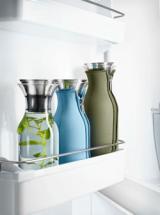 Description
The carafe fits most fridge doors. It is suitable for both hot and cold drinks. The patented stainless steel and silicone pouring lip ensures that the carafe is 100% drip-free – the contents end up in your glass, not on the tablecloth. The accompanying tip-up lid opens automatically.
The cover keeps the contents hot or cold for longer, and ensures that condensate does not collect on the table.
Staff pick
"The Eva Solo fridge carafe is my all-time favourite product for so many reasons. In our family, with thirsty kids millling around, we'd be lost without our fridge carafe. It's a permanent fixture in the fridge door, ready-filled with juice or water to quench thirst instantly with a lovely chilled drink. When eager little hands do the serving, I've no worries, because the drip-free pouring lip prevents spills on the tablecloth, table and floor.

Finally, I'd like to point up that the carafe is not only brilliant for chilled drinks. Our fridge carafe also has pride of place on the table for serving cocoa or mulled wine in winter. Because it's made of borosilicate glass, it's safe for both hot and cold beverages. With the neat cover on the carafe, I also avoid condensation trickle on the table, or burning my hands if the drink is piping hot. The fridge carafe is basically indispensible for any occasion – for the breakfast table, for lunch, afternoon cocoa, evening meals or snacktime on the patio."
- Helle Fisker Lundsgaard, Marketing project manager at Eva Solo.