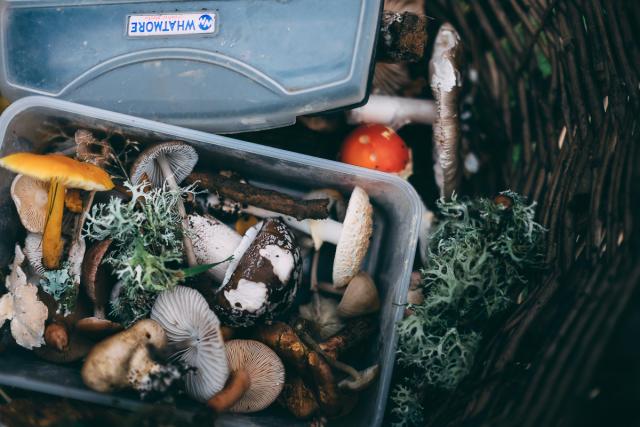 Into the wild!
Foraging for food is nothing new
Shows like Alone and Bear Grylls' Man vs Wild definitely have that raw appeal. Something to do with survival and natural forces. But let's set aside the thrill of brewing coffee on a beetle carapace and live ants topping and instead go all-in on the experience, as opposed to sheer survival. Join us if you dare for an expedition into the wild.
The Nordic Kitchen Manifesto of 2004* brought the first focus on produce and cuisine for our part of the world. And all the ingredients we could harvest seasonally. The idea of foraging in the wild obviously appeals to the green movement. More plants, less meat and making meals from nature's own pantry, and always in season. Because is there any point in green cuisine if the avocados only grow over in South America?
Ancient tradition. And the rest is history...
Foraging for food is nothing new. Early humans did hardly anything else. And herbal medicine is described on papyrus rolls from 4000 BCE. Denmark's "Jutland Law of 1241" reveals that even then it was wise to remind people to leave enough for everyone. That law actually states that people may gather whatever they can carry in their hat. And in the modern context? Only forage for what you can carry in a shopping bag (not an IKEA bulk bag), so you leave some for other wild foragers.
All set for a treasure hunt in the wild
Danish Johanne Mosgaard is a cookbook author, recipe developer and content creator. And as someone from the country rather than the city, she claims "we don't say foraging, we say finding." So that's exactly what she does. With Ella, her five-year-old daughter.
"Most kids are going to enjoy going out into the wild to fetch food. And we use foraging like a treasure hunt. 'Who can find...?', 'Keep a lookout for...'. This is a motivational factor on our walkabouts, and inspires Ella to find things in the wild and learn to tell the difference. And obviously to always ask a grown-up. That's a great learning point, and she gets it."
"We do a lot of brambling, for example, and have found all the best spots in our woods. After dinner, we like to nip out to pick blackberries for afters. We can also keep an eye on when the next ones will be ripe. The wild berries are great for packed lunches and for mini-pancakes."
With her meals mantra of 'Green Meals for Everyone', Johanne aims for recipes that are not overly complicated or contain hard-to-source ingredients.
"Not everyone has the wilds at their back door, so it's rare for my recipes to actually require foraging. And as a safe forager, I don't take risks with food in the wild. But I don't mind admitting that it feels great to have picked all those sea-buckthorn berries, despite the blood, sweat and tears of getting pricked by thorns 300 times. It's such a victory! Sea-buckthorn is rich in vitamin C, and I use the berries to make jam or a smoothie from a handful straight from the freezer. Just remember to give the berries a good rinse before freezing them."
Kitchen garden
On her website, www.englerod.dk, Johanne also has lots of inspiring ideas for kitchen gardens. She has personally converted 680 m2 of plain lawn into a lush kitchen garden of raised beds, wild plants and weeds.
"Weeds can be so impressive!"
In salads too. So Johanne gathers ground elder to use as spinach or for pesto. "It's ultra-healthy." And nettles for soups and pesto, too.
"But be sure to wear gloves. If you're not gathering nettles in your own garden, but in urban lots, you'll need to watch out for spots where the dogs cocked their legs…"
"We've created a managed wild garden full of flowers. It's so colourful to garnish a salad or hummus with marigold or cornflower petals. Use dandelion flower petals in a pancake batter or salads – or for dandelion syrup and cordial."
Back garden
"I live right next to the woodlands of the Hammer Bakker conservation zone where I gather wild apples and other ingredients for fruit mash and compotes. Or I grab a wild-plum snack while out running. Wood sorrel grows abundantly, and this purple herb is virtually impossible to confuse with anything else. Use it in salads or to decorate desserts. And then there's the Nordic classic wild garlic, which is great for pesto, so our freezer is stuffed with it. It's also a tasty garnish for things like cauliflower pasta, a creamy sauce with cauliflower topped with oyster mushrooms or wild mushrooms."
*) Nordic Kitchen Manifesto was created on the initiative of top Nordic chefs and defines 10 principles of purity, seasonality, ethical sourcing, health, sustainability and quality.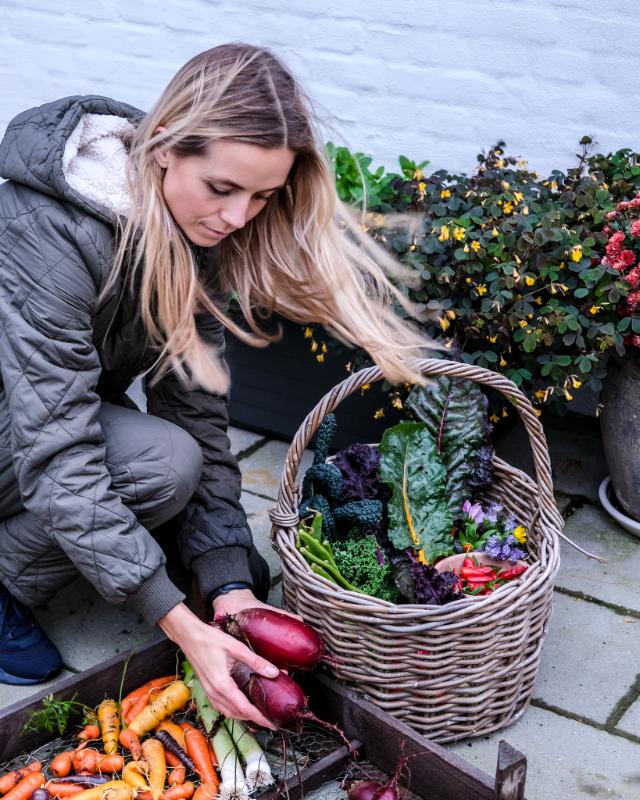 About Johanne Mosgaard
Cookbook author, recipe developer and Instagrammer with her 'Green Meals for Everyone' food philosophy. Discover her inspiring green foodscape at @johannemosgaard.
Where?
Go foraging anywhere. Places like salt meadows, lakes, rivers, beaches, meadows, ditches, grassland, deciduous forest, pine forest and in urban areas. But forage according to the season. Because that's one of the great things about foraging – it trains you to think seasonally! Plus, it's food for free.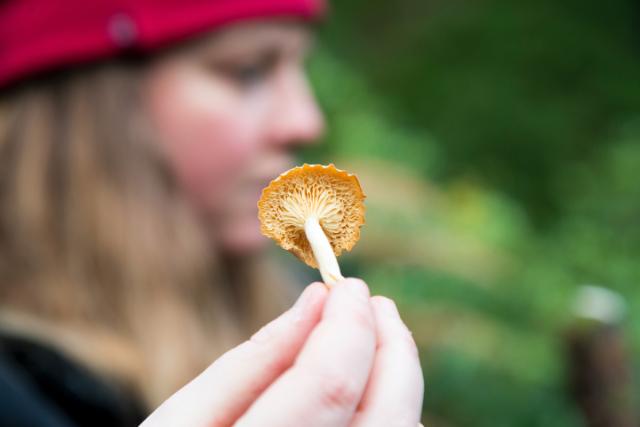 In residential gardens too
That sprawling garden has uses beyond being a football pitch and trampolining spot. Search your own garden for ground elder, red dead-nettle, garlic mustard, true nettle, elderflower and elderberries, and rosehips.
Ground elder has long had a bad reputation with garden owners. But no longer. Use the leaves in a potato salad or onion gravy. And try true nettle in gnocchi or pasta. Plus, remember to only mow the lawn where absolutely necessary to encourage biodiversity.
Umami me
Seaweed is far from BREAKING NEWS on the Danish culinary scene. But how about actually harvesting it in the wild?! Seaweed is tastiest from May to August when the sea is warmer anyway, so you can roll up your trouser legs and don't have to don rubber boots or waders.
Seaweed is low-calorie and rich in vitamins, minerals, Omega-3 and dietary fibre. The high potassium content helps to regulate blood pressure as opposed to salt, and it can be beneficial to replace salt and stock cubes with seaweed.
Dry seaweed overnight on a wire rack at room temperature and blend it into granules, and use this dried umami-bomb for pesto, baking, fish or whipped butter.
Deadly delights
Nothing screams "eat me and die" as loudly as the red-spotted fly agaric. Cosmos, common sea-blite and stonecrop may be poetical, but are all on the list of plants you definitely should not eat because not enough is known about their content and risks. Always double check before eating your wild harvest. And look up lists of Denmark's edible (and especially NON-EDIBLE) plants on websites like the one from the Danish Veterinary and Food Administration here.
Basic equipment
Freezer bags or plastic tubs
A wet towel to wrap around bags/tubs so your freshly harvested wild ingredients don't heat up and perish on the way home
A bag or backpack
A basket (for mushrooms or fruit)
A brush (for mushrooms)
Scissors (e.g. for pine shoots and leaves or seaweed)
Gloves (avoid cuts if picking berries)
Rubber boots or waders (if collecting seaweed). Waders can often be hired)
Common sense. Check edibility if in doubt.
Fruit-picking tips
When are fruit ripe? If a fruit comes off the branch easily when twisted a half turn, it's ripe for picking. You can also cut a fruit in half and check the colour of the seeds. If they are dark, the fruit is ripe.
App for beginners, intermediate level and PROS
Download the 'Vild mad' app developed by Rene Redzepi and Noma chefs. The app's screening test finds your knowledge level and gives you lots of inspiration for wild foraging in your location, recipes and descriptions of 110 wild ingredients that can be found in Denmark. Download the app from App Store or Google Play.