A world-class design business
With more than 280 design awards, Eva Solo's products are virtually swimming in accolades. The design tradition behind this success is founded on an enduring aesthetic and functionality, and a formula dating back to 1949.
At Eva Solo we believe that good design solves real-life problems. This is what makes a product usable, intuitive and ultimately brings contentment to everyday life. We are therefore honoured to be able to call ourselves one of Denmark's most award-winning design businesses.
Since the Eva Solo brand was launched in 1997, we have received more than 200 internationally recognised design awards from the likes of iF Product Design Award, Good Design Award, Red Dot Design Award and Designpreis.
Design awards such as these are conferred by leading experts assembled in jury panels to recognise and reward design excellence. Our continuing popularity, as evidenced by these prestigious awards, is a source of great pride for us.
Good design is core to everything we do. It is our pledge to ourselves, our customers and our wider world. Together with our designers, our mission remains to make life on the home front even more pleasurable.
So how do we do that?
At Eva Solo, we've had a formula for good design since 1949. It all started with a gravy shaker where the lid doubled as a citrus press. The dual-purpose design was unprecedented and a huge success. The product was launched with the tagline "Yes, but...".
Yes, it's a gravy shaker, but it's also a citrus press.
To this day, we are dedicated to ensuring that our products conform to our original formula. Good design does more. It may be the special properties of our drip-free carafes, or our folding cutting boards, but might just as well be an indefinable je ne sais quoi.
Eva Solo's products are developed with aesthetics, functionality and choice materials in mind. There can be no design excellence without careful consideration and attention to detail. This is why we only collaborate with designers who are the best in their field.
Tools Design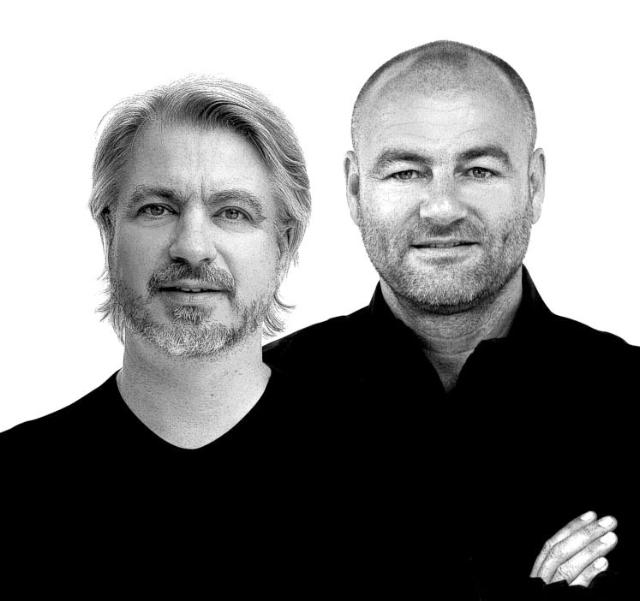 The Tools design duo has played a decisive role in the development of our Eva Solo products for more than 25 years. Tools consists of Claus Jensen and Henrik Holbæk, who have designed every single product. Claus has this to say about the Eva Solo products: "Individually, they each represent a unique combination of form and function. But they are all informed by Eva Solo's long-standing experience, which we have simply given a contemporary look". The design duo has reaped more than 350 awards, making them the most celebrated Danish designers of all time.
Ole Palsby
The late Ole Palsby wrote design history towards the end of the 1970s when he designed the products for our Eva Trio brand. Together with the then owner of Eva Solo, Erik Mangor, Ole Palsby was on a mission to create the ultimate range of pots and pans. The result was the Eva Trio brand, which was launched back in 1977, at which time it consisted of three different ranges; hence the name 'Trio'. Everything about the Eva Trio products was trail-blazing; their distinctive design, the option of combining the brand's different ranges; copper, cast iron and aluminium, as well as the professional quality, and something as simple as the pots' stackability.
Thomas Pedersen
Since graduating from Aarhus School of Architecture in 2002, Thomas Pedersen has led SPARK by Thomas Pedersen. His practice strives for product and furniture design combining ergonomics with aesthetics and sustainability. This is expressed in design that unites the Danish love of clean lines and durable materials with a contemporary look in which nothing is left to chance. The primary inspiration is from nature and the proportions of the human body. This results in distinctly organic lines informed by Scandinavian design heritage but with a visionary perspective.
Over the years, Pedersen has won a number of awards for his designs. He is best known for his Stingray chair, which he designed as an undergraduate.
ARDE Design Studio
ARDE Design Studio is one of Scandinavia's leading furniture design experts. They take a unique, holistic approach to the furniture industry, with a background spanning from design and manufacturing to the retail trade.
In their design process, ARDE consider the entire value chain behind a product. They create design that works from concept to prototype and through to the final product.
To live up to their ambition of creating sublime furniture design, ARDE works to a 'hands-on' approach. Their unique workshop facilities allow ARDE to build and enhance prototypes in-house with high efficiency and rapidity.
Why do we need good design?
Did you know that people have a 'reward' system in their brain that is activated when they see something visually appealing or useful? Brain scan studies reveal that beautiful design can activate parts of the motor network in the cerebellum, which controls the movements of our hands. We reach out instinctively for beautiful objects; beauty moves us, literally.
Beauty is favoured because we are 'wired' to be attracted to symmetry in the interests of our survival. Through evolution, humans have learned to identify and appreciate objects that are visually and functionally appealing, as this has helped us to survive and thrive in our surroundings. For our ancestors, symmetry was perhaps found in the most idyllic cave or the most fruit-laden tree.
Today, we allow good design to shape our surroundings because we know that it enhances our state of mind. Perhaps you have personally experienced that mood boost of visiting a beautiful home or wandering around in a well-tended garden? And you may have noticed that you hold your head higher when dressed in a well-tailored suit, or that your voice is hushed when visiting a minimalist, exquisitely appointed art gallery?
Aside from the more subtle and underlying effects of good design, there are also the move obvious ones.
Good design makes things more efficient and easier to use. It saves us time and effort.
People also use good design for expressing their identity. We want to surround ourselves with objects that reflect our personality and values, and good design helps to meet that need.
There is obviously no formula for good design. The experience is subjective and informed by personal attitudes and expectations. Your neighbour may adore the houseplant you can't stand the sight of.
But at Eva Solo we venture to claim that we know what good design is. At any rate, we have the certificates, medals and trophies to back that claim.
As a matter of fact - you can click here and get an overview of all our design awards.