Tailwind in your food stores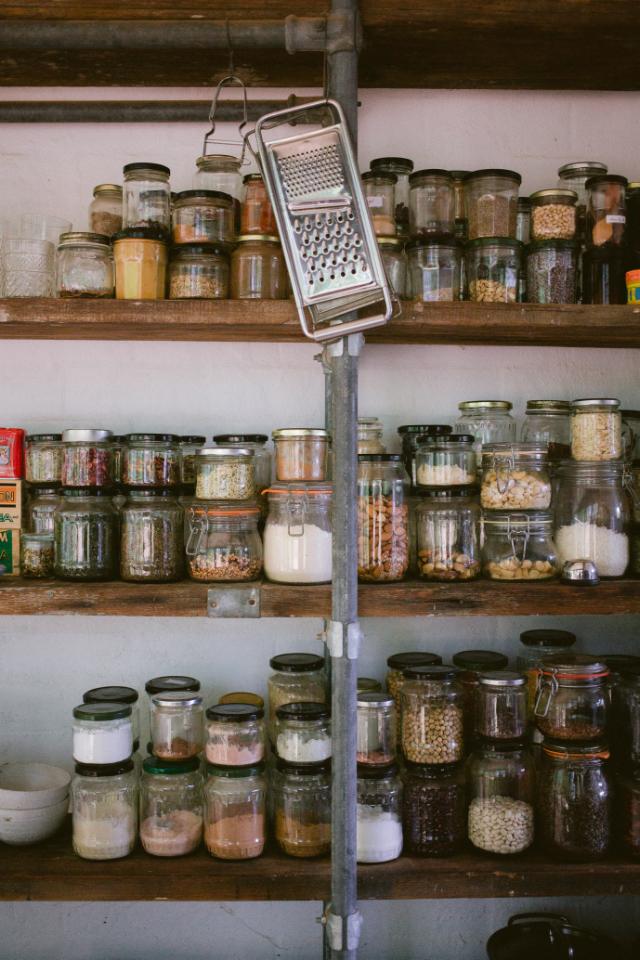 Hand on heart (and hob): Is your pantry in check? Read on to discover how to make a tasty meal without having to dash out to the shops first. And about being climate- and food-waste aware. Star chef and former restaurant owner Emilie Qvist Kjærgaard offers pointers for the perfect pantry.
Be honest now: are your food stores free from half-empty tubs of the same content, expiry dates on the verge and expensive impulse buys you never actually used? Not so much, right?
Ditch the idea of your pantry being as well-assorted 1:1 as 18 shelf-metres at your local supermarket. Instead, save the space, time and money and be honest and realistic. Like Emilie:
"A carrot is supposed to taste of carrot!"
Read on to discover her pantry staples.
Oils and vinegars
"Obviously I always stock a decent, cold-pressed olive oil. But for frying burgers, I always use the cheapest rapeseed or sunflower oil. Or 'loser oil' as we call it in my family. Use that loser oil for anything requiring a lot of oil. And then use your olive oil for things like salads, dressings and quinoa."
"I use sesame oil and a dash of soy sauce for rough-cut salads. Or I fold it into cooked quinoa or beans for a stronger flavour than olive oil. You can also try adding the oil to left-overs."
"I use truffle oil for soups, especially vegetable soups. And if you have a dab of soured cream left over, that's a real treat."
"I keep all kinds of vinegars and use them in everything for the acidity. Just recently I made 60 litres of apple cider vinegar, red wine vinegar and white wine vinegar. And you can make vinegar using your own vinegar mother, from the dregs of that left-over red wine."
Favourites
"I've just been travelling in Asia for two months, so rice is one of my favourites at the moment. But my parents sing the praises of red barley straight from the combine harvester, which can be used like rice, because rice is soon on the dull side, whereas red barley has both flavour and bite. I also always stock up on quinoa and bulgur, because they take no time to prepare and just need a dash of seasoning."
Pasta
"If I buy pasta, I always go for fresh variants like ravioli, and for me, dry pasta has to be the ribbon type with one wavy edge (Tripoline), but I'm not a spag bol type because it's just plain boring."
Legumes
"For legumes, I tend to go for tinned ones. Both for the ease, so I don't have to soak them overnight, but also because I can't always predict my schedule tomorrow. Urtekram, one of the biggest organics brands in Scandinavia, have great tinned organic legumes like beans, lentils and chickpeas, but the price is a lot higher than if you soak and cook them yourself."
"Ingrid peas are a Danish variety now adopted by many growers. The peas taste of Danish sunshine and summer, and together with the other legumes have a 'deeper meaning'. The climate loves legumes and their special roots benefit our farmland. Plus, they're easy to grow. In fact, they've been part of the Danish diet since the Bronze Age. I love the 'deeper mission' of people reverting to the heritage varieties and production methods."
Recipe for Ingrid pea fritters
"People who dined at my restaurant remember the Ingrid pea fritters. Whisk pea flour with boiling water and salt into a porridge and place in a baking tin. Leave it to set and then slice and deep fry as fritters. You can also use chick peas for the fritters."
About Emilie Qvist Kjærgaard
Keep an eye out for Emilie. She's a chef. But not just a chef. The others call her a 'visionary chef', a 'leading light' and 'no-holds-barred'. Her own claim is that she aims to revolutionise Danish cuisine.
For the past two years, Emilie owned the Medvind restaurant in Hanstholm, Jutland. And although she acquired the premises from a popular snack bar serving burgers, bacon gravy and fried fish fillets, the restaurant name, which translates as "Tailwind", pays tribute to the support Emilie enjoyed from the local community. Despite there only being fish and veggies on the menu. The restaurant has now been sold and Emilie has moved on.
Emilie originally trained at the world-famous, self-sufficient Blue Hill at Stone Barns north of Manhattan with its back-to-nature revolutionary chef Dan Barber (as seen on Netflix), and at Amass and Relæ in Copenhagen. She also attended Noma's MAD Academy for chefs.
Emilie spent her formative years on organic and biodynamic farms, initially in Holstebro and then on Livø in the Liim Fjord, where her parents grew 14 grain varieties. Ancient rye, hulled wheat and spelt, together with cornflower and poppy are mementos of these origins in the tattoo that encircles Emilie's forearm.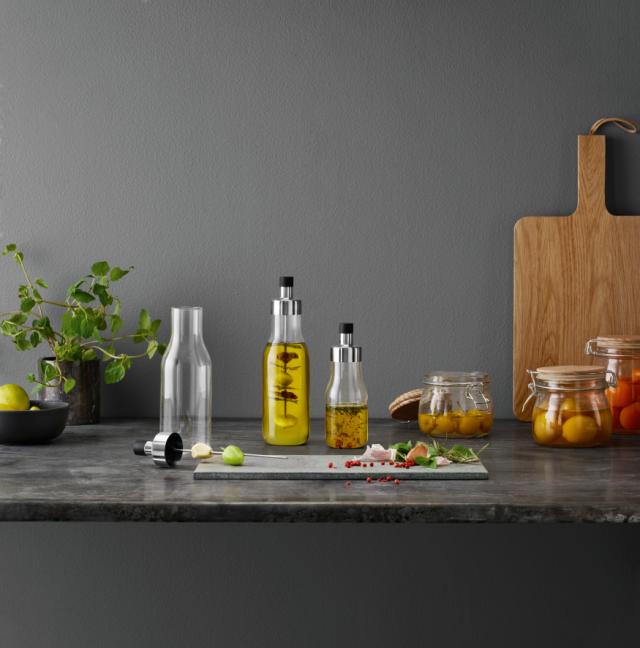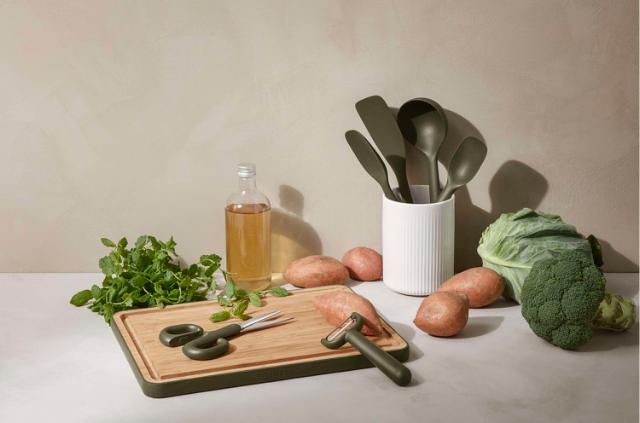 Spices
"Foods should retain their own natural flavour, so the number of spices in my pantry is limited. I have salt and pepper, but hardly use pepper in my cooking, because it's like adding curry to everything. A Cacio e Pepe sauce is obviously going to need ground pepper, but it's not a must in everything. And bear in mind: black pepper is no instant remedy. Instead, try using any of the many other varieties of peppercorn, because they are as diverse as potato varieties. Try exploring these when on your travels. Timut, szechuan or batak peppers, which have more citrus and floral notes, zing the tongue as if electrified. Use these for pasta or dips and pâté.
I have three cheap pepper mills, each containing one of these three varieties, and labelled, so I remember to use them. You don't have to use expensive Peugeot mills."
I use Piment d'Espelette, French chili pepper, to enhance flavour and notes. But take care to store your light-sensitive spices in a dark kitchen cabinet."
"I rarely use dried herbs, preferring fresh ones. Pot-grown bought herbs are a bit of a joke. Use them only as a last resort. You can always grow some on your own window sill from scratch. I keep lemon grass and ginger in my fridge and kaffir lime leaves in the freezer."
Other condiments
"With a Tom Yum paste from a quality Asian food store, you don't need much else. Green curry paste and red curry paste can last for ever. And if you have a tin of coconut milk, you only need bell pepper, carrots and noodles – and maybe some chicken – to rustle up a delicious soup in no time."
"I always keep some organic lemon and lime for Asian-style dishes. Remember to use the whole fruit, and grate the zest into the dish to avoid food waste. The same goes for oranges, too."
"I don't go overboard on tomato paste although this, along with onion and carrot, is the base for so many dishes and a great staple. Plus, I love ingredients with a long shelf-life."
"I also always keep some stock. Make stock by simmering bones and freeze it, e.g. in small bags or ice cube trays."
"If I have any left-over cream or full-cream milk, I pop it in the freezer, so I have a dash to round off a dish. Use it in a sauce and avoid food waste."
Seeds
"Another staple for me is sunflower seeds. Try making a tahini-style paste from sunflower seeds (or other seeds) and serve with fried sweetheart cabbage. Cut a sweetheart cabbage into eight (retaining the stalk) and fry in 'loser oil' until caramelised and near-black on all sides. Season with salt. Pan-roast the seeds and blend with oil and salt. The peanut-butter texture of the paste goes great with the cabbage."