Denmark's Chef of the Year serves canteen fare to social workers
Mikkel Højborg Olsen has medals and a track record only a few gourmet chefs can boast of. The Culinary Olympics and Culinary World Cup with the National Culinary Team, National Chef of the Year silver and gold medalist, and a CV listing restaurants the likes of Noma. Star status aside, on weekdays, his cuisine delights diners at Social Services in suburban Brønshøj on the outskirts of Copenhagen.
You'd be forgiven for not associating local authority canteen schemes with gourmet fare. But who knew? At Social Cantina, on the top floor of the citizens' advice centre, Child and Youth Social Services in suburban Brønshøj, they insist on doing things differently.
In 2017, Mikkel himself, along with Matthias Holt and Rasmus Kofoed Christensen (all three former Michelin chefs), moved into the kitchen on Brønshøjvej and quietly revolutionised lunchtimes. Because who says that canteen meals and fine dining are like chalk and cheese?
The concept behind it all is simple enough. Every weekday lunchtime, the chefs plate a serving for every one of the Social Services' some 100 daily diners.
"We wanted to get away from those non-descript, muddled lunch schemes. No more carrots that have soaked in water for a week, shrivelled cold cuts and stale loaf heel ends," says Mikkel defiantly, as he preps for the day's lunch.
The result is healthy and varied meals that champion sustainability and seasonal green dishes. The benefit of individually plated meals is that the chefs can manage ingredient consumption and prevent food going to waste.
"We never throw anything away. Everything can be put to use in one way or another. Surplus veggies are juiced or made into soup, while day-old bread is turned into panko-style breadcrumbs or meatloaf," Mikkel explains.
By eliminating over-production and food waste, the kitchen has more to spend on quality ingredients. When fish is served once a week, it's fresh and harvested ecologically. All the meat is sourced from ambitious organic and biodynamic farmers. Naturally, the quality is impeccable.
None of the diners appear to miss the volume and variety of a gargantuan help-your-self buffet when abundantly compensated by care and quality. A line of hungry, avid Social Services employees are certainly in pole position before serving even gets underway.
"There's just no conflict in being an ambitious chef and working in a canteen," says Chef Mikkel with a confident smile. He is, after all, living proof of that claim.
Perched on top of a ripening cabinet in the middle of the canteen is a chubby little statue sporting a golden chef's toque and gold medal. Dangling over Social Cantina's open kitchen, six gold-tone alphabet balloons spell the name "Mikkel". The statue and the balloons have been part of the décor since Mikkel was announced Chef of the Year Denmark 2023 – a title conferred at the prestigious trade competition Chef of the Year and Waiter of the Year hosted at the Madværkstedet food fair at the end of March.
Culinary career facts: Mikkel Højborg Olsen
Completed his training at Restaurant Babette in Vordingborg in 2008
Worked as a volunteer at Restaurant Ensemble, Restaurant Premisse, Søllerød Kro, Restaurant AOC and Noma.
Dessert chef at Søllerød Kro 2009-2010 and chef at Restaurant AOC 2010-2011.
Member of the Junior National Culinary Team in 2007. Competed in the Culinary Olympics as a member of the Junior National Culinary Team in 2008, and in the Culinary World Cup in 2010.
Claimed 1st place in the Kartoffelprisen awards in 2012
Finalist at Chef of the Year Denmark 2013, second place in 2015, and the winner in 2023.
Experience, training and the right tools
For Mikkel, preparing for the National Chef of the Year competition started last year. He knows what it takes – in 2015 he only made second place in the same contest.
"I hate being No. 2," he says, adding:
"It's way more worth loading equipment back into the van when there's a trophy, and not just a certificate on the front seat".
Unlike the relaxed, easy-going chef whose day-job is catering to social services employees, there's no mistaking the competitive streak in Mikkel when he talks about competing at the National Chef of the Year contest. He has the winner mentality of an elite athlete. Which is maybe why he's actually training for the World Triathlon Championships in his spare time.
"Whether it was rounders at school or board games at home, I can be quite single-minded," he says.
The Chef of the Year competition lasted six hours and 30 minutes. In advance, the finalists had been instructed that their main course had to be composed of sirloin from grass-fed organic beef cattle. The starter and dessert, however, were to be prepared from ingredients that would not be revealed to the contestants until 24 hours before competition kick-off.
"I had five weeks of intense time-training with my trainee Simon Ventrup. It may not sound like a big deal, but I know the game from before," says Mikkel.
On the day, he impressed the jury chefs, which included former World Champion Kenneth Toft-Hansen from Svinkløv Badehotel, with a starter composed of baked turbot stuffed with mussels, a main course consisting of roast veal sirloin and pithivier quiche with braised veal tongue and heart, and finally, a Baba au Rhum cake for dessert.
"I had visualised the victory moment; simply imagined myself standing at the top of the podium. But I have to admit, I was all nerves and beside myself while the jury was casting its votes," Mikkel recounts.
Even with a well-deserved first place, Mikkel's soaring ambitions temper the sweetness of that victory. In fact, the jury's constructive critique has preyed more on his mind than the thrill of his triumph. The problem was the sauce for his starter. He had, as he puts it, tasted himself blind to it while in training. And the downer of the feedback is still bothering him. Because he is nothing short of a perfectionist to the tip of his chef's knifeblade.
Sticklers like Mikkel know that top-tier gastronomy takes more than training and experience. The tools of the trade have to be just right too.
"I've always held that Eva Trio make the best pots and pans. That's for sure. Their cookware was perfect for the training and the competition, and I registered a distinct difference from some of the cooking equipment brands I've been sponsored by in the past," Mikkel explains.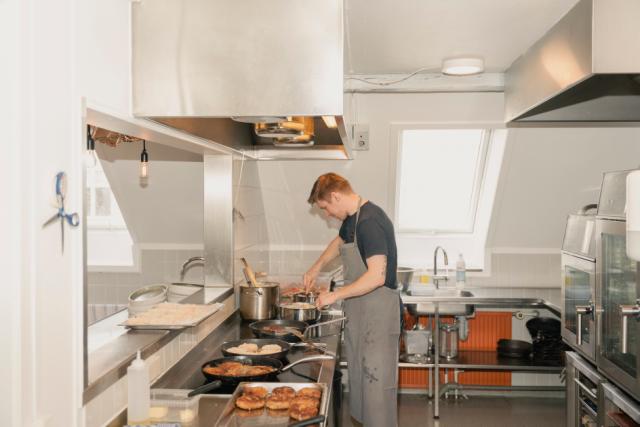 Social responsibility
Back at Social Cantina, the day's lunch is on the way. The dish of the day is Danish classic breaded pork patties, krebinetter, with creamed vegetables and potatoes – a far cry from the decadent three courses Mikkel served at the Chef of the Year event.
"We make whatever dishes we fancy," says Mikkel, who is assisted in the kitchen by chefs Rasmus Kofoed Christensen and Jonas Krüger (replacing Mathias Holt).
Yesterday, the dish of the day was green curry with bamboo shoots, coriander and Thai basil. Tomorrow, they'll be dishing up Asian prawn toast and crème brûlée for dessert.
"We're not afraid to stick our necks out. We're serving everything from kimchi and squid to offal. And sure, some diners are challenged on occasion," says Mikkel, adding:
"But once in a while, they do appreciate when we serve classic Danish rye bread with cold cut toppings. All made from scratch, of course".
The kitchen knows their diners' preferences. One diner is informed that there is no cream in the creamed vegetables. Another is offered a meat-free patty made of vegetable mince. All while an aproned 12-year-old boy walks from table to table to light little candles. An odd sight at any other canteen, but as the name and location suggest, Social Cantina is not your average canteen.
Youngsters assigned to the citizen service centre for support and assistance with their various needs, have the opportunity to volunteer for the kitchen. This scheme advances both the social responsibility mission and helps the chefs with the more routine tasks.
"It's a win-win. We get some help, and the youngsters enjoy a sense of community and a break from their everyday life," says Mikkel, adding:
"We offer a high success rate, because we get the canteen lunch served on time every day. The diners say 'thank you', and look the youngsters in the eyes. That's a world away from what many of them experience at school."
Lunchtime is nearly over, and the social services staff amble back to their offices. Now there are just the empty plates left. In the kitchen, they're prepping for the next day. Golden-brown brioche loaves fresh out of the oven fill the room with the delicious smell of home baking.
Ultimately, the Chef of the Year doesn't see much difference between serving Michelin-grade food to gourmets or feeding hungry office workers.
"Whether I'm getting ready for an intense competition or making lunch for the canteen, the end result has to be great cuisine. Prepping, processes and timing can easily be transferred from one to the other, and my approach in the kitchen is always the same – the principle is great ingredients, treated with care and respect. You can't go wrong with that," is the last word from chef Mikkel Højborg Olsen.