Copenhagen cool kid and cake enthusiast Kh Anton Bruusgaard, stepped into the kitchen to create three little masterpieces of Sweet Delicacies for Eva Solo. His cakes, petite as well as the more generous in size, really come into their own when presented on Eva Solo Legio Nova. The white serving dishes add a sophisticated and clean touch to Anton's little slices of sugary heaven.
Citrus fruits are great for filleting and serving in their purest form. Here, the orange slices are joined by a soft vanilla crème and a crispy base of shortcrust pastry.
Ingredients
Shortcrust pastry
100 g icing sugar
150 g salted butter (cold)
300 g flour
1 egg (cold)
1/4 tsp salt
Crème
290g freshly squeezed orange juice
200g sugar
35g corn starch
4 egg yolks
50g salted butter
1 vanilla pod
Decoration
5-6 large, ripe oranges
China pink flowers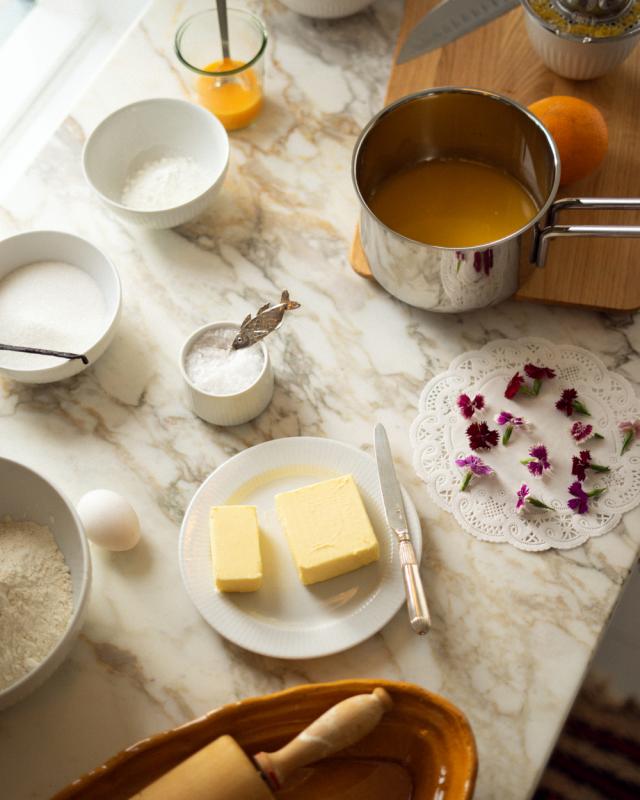 Procedure
Mix the butter with salt and icing sugar until even. Next, add the flour until you have a crumb-like consistency. Add the egg and knead until the shortcrust pastry holds its shape.
Allow the dough to rest in the refrigerator for a couple of hours.
Roll out the dough, remembering to use flour on your worktop and rolling pin.
Cover a perforated tart tin (dia. 20 cm) with the dough.
Trim the edges using an herb cutter before using a fork to prick the base all over.
Bake the shortcrust pastry at 175 degrees Celsius until lightly golden (approximately 8-12 minutes).
Mix the seeds from the vanilla pod with a bit of sugar on your chopping board.
Heat the orange juice and vanilla sugar with the rest of the sugar and the corn starch in a saucepan, stirring continuously using a whisk. Once the mass is even and thickened the saucepan is then removed from the hob.
Allow the mixture to sit for about a minute before whisking in the egg yolks.
Carefully heat the crème mixture and bring to a boil, then immediately remove from the hob and whisk in the butter.
Mix the crème using a hand mixer and spread across the shortcrust pastry.
Fillet the oranges and arrange the slices on top of the warm crème.
Once the crème has cooled down completely the tart can be decorated with Chinese pink flowers.