Copenhagen cool kid and cake enthusiast Kh Anton Bruusgaard, stepped into the kitchen to create three little masterpieces of Sweet Delicacies for Eva Solo. His cakes, petite as well as the more generous in size, really come into their own when presented on Eva Solo Legio Nova. The white serving dishes add a sophisticated and clean touch to Anton's little slices of sugary heaven.
These sweet and creamy beauties glitter and shine. Like delicious porous icicles, they easily break into mouth-watering pieces.
Ingredients
Crème
Juice from 3 lemons (approximately 60g)
2 tbsp hibiscus tea
200g sugar
35g corn starch
230g water
4 egg yolks
50g salted butter
Choux pastry
60g water
65g whole milk
50g salted butter
3g salt
2g sugar
75g sifted flour
2 eggs
Caramel
500g sugar
40g glucose
100g water
2 tablespoons hibiscus tea
Decoration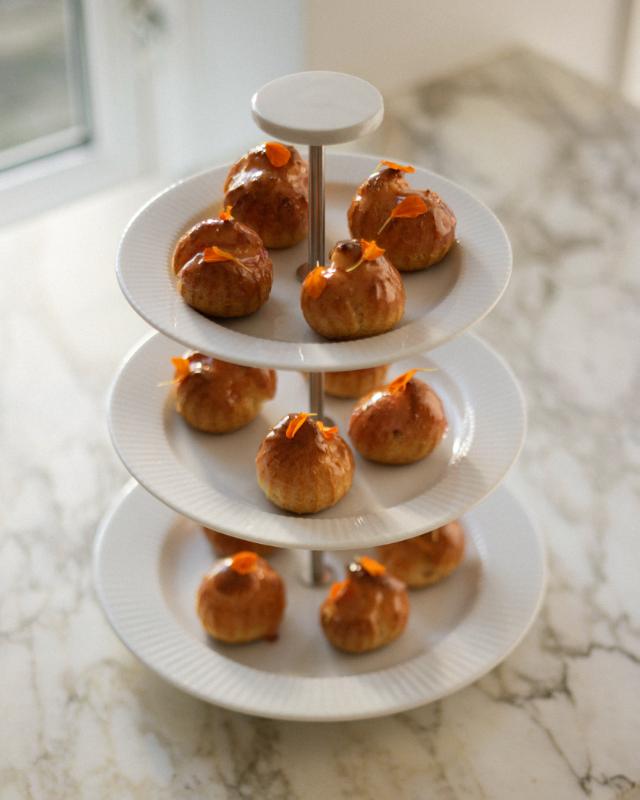 Procedure
Heat up the lemon juice and water in a saucepan. Add the hibiscus tea leaves and allow to steep for approximately 5 minutes.
Strain the tea leaves before mixing the tea with the sugar and corn starch. Heat up the mixture whilst stirring continuously using a whisk. Once the mass is even and thickened, remove from the hob.
Allow the mixture to sit for a minute before whisking in the egg yolks.
Carefully bring the crème mixture to a boil and then immediately remove from the hob before whisking in the butter.
Mix the crème using a hand mixer and allow to cool down.
Bring water, whole milk, butter and salt to a boil in a saucepan. Whisk in the flour and continue whisking until the mixture is even. Pour the mixture into a bowl and allow to sit for about a minute.
Whisk the eggs into the mixture one at a time and continue whisking until the dough is even.
Place the dough in a piping bag with a large, fine tooth star piping nozzle.
Squeeze the dough onto a baking tray covered in baking parchment. Gently press down on the tops using a wet finger.
Bake the choux pastry at 190 degrees Celsius until lightly golden (approx. 20-30 minutes). Remember not to open the oven door during this time.
Use a piping bag with a small nozzle to fill the cooled down Danish choux pastry with the hibiscus crème (insert the nozzle at the base of the pastry).
Heat up the water and allow the hibiscus tea to steep in it for 5 minutes.
Strain the tea leaves and mix the tea with sugar and glucose sirup.
Bring the caramel mass to the boil at exactly 152 degrees Celsius (use a sugar thermometer).
Remove the caramel from the hob and allow it to briefly cool down until it is no longer bubbling.
Carefully dip each Danish choux pastry into the faintly red caramel. You can use a tooth pick and a cake fork for this.
Decorate the Danish choux pastries with calendula flowers and serve while fresh.