FireGlobe gas grill - DK/ES/PT 30 mb - Ø58 cm
Delivery from 10£

Free delivery from 89£

This product requires a carrier
| | |
| --- | --- |
| Color | Black |
| Cleaning | Always check that the grill is cold before cleaning it. Wash the grill with hot water and a mild detergent. Then rinse well with clean water and wipe dry. Remember to clean the grill thoroughly at regular intervals, and use a grill brush to clean the grid after use.The surface of the grill is prone to damage if sharp implements or abrasive cleaning agents are used to clean it.The gas grill is supplied with a black grid made of enamelled steel which must be cleaned after use – but only ever with a grill brush with brass bristles.The grid, flame tamer and the burner compartment will gradually become darker as they are exposed to heat. Such darkening cannot be cleaned off, but any food residues can be removed using a brass grill brush. Please note that a grill brush with steel bristles will damage the surface, which will then be more likely to rust. For a particularly thorough clean, a mixture of soft soap and household ammonia may be applied to the grid and the flame tamer. Place the parts in a sealed plastic bag for several hours, preferably overnight. Then remove them from the bag and clean according to the normal procedure.The burners (13, 14 and 15) may gradually become clogged up. Clean the burners regularly when they are cold using a stiff brush, and check that the holes in the pipes are not blocked. To clean the burners or the inside of the grill bowl thoroughly, it is possible to remove the burners completely. See below for details. The drip bowl should be cleaned every time the grill has been used. Wait until the grill has cooled down before cleaning. Remove the drip bowl (8), and check whether there is an accumulation of fat. Remove the fat from the drip bowl to avoid it catching fire when using the grill, and wash the bowl in hot soapy water. Then rinse with clean water. Reinstall the drip bowl (8). Do not use aluminium foil in the drip bowl. |
| Material | Aluminium,Enamelled steel |
| Lid included | Yes |
| Height | 48 |
| Width | 72 |
| Depth | 102 |
| Weight | 22 |
| Designer | Tools Design |
| Brand | Eva Solo |
| Number | 571406 |
| EAN | 5706631164870 |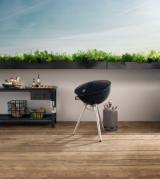 Description
The sculptural FireGlobe gas grill features a simple and elegant design. With three individual burners, it provides an even heat distribution, while it is easy to adjust the heat and thus control your cooking and the temperature in the grill. The grill also comes with a unique dome lid, which makes it possible to create a fan oven effect in the grill. The dome lid has a built-in thermometer, and the grill can achieve a maximum temperature of 330-360°C. When not in use, the lid hangs neatly on the side of the grill.
The design of the grill acts as a windshield, which is a practical feature in windy conditions. The three legs ensure stability, and the integrated hand hole makes it easy to move the cold grill once the food is ready. The hand hole also provides ventilation when grilling, and it is also possible to hang the lid from the hole.
The legs can be removed when the grill is not in use, so that it takes up less space when stored away. Yet another smart detail.
Covers for both the grill and gas bottle are available as optional extras to protect them from the wind and weather.
INFO ABOUT DELIVERY OF GRILLS
If you order a grill, this and your other goods will be delivered to the curbside of the adress you enter in the checkout. As soon as the order leaves our warehouse you will receive a track & trace link where you have the opportunity to follow your shipment.
#EVASOLO COMMUNITY
@evasolo_official | #evasolo | #evatrio | #evasolofurniture