Dosina dining chair - Oiled oak w. cognac leather upholster
Custom_USP1

Wide back with high seating comfort

Custom_USP2

Light and inviting look

Custom_USP3

Easily stackable
Delivery from 5 EUR

Free delivery from 89 EUR

This product requires a carrier
| | |
| --- | --- |
| Color | Black |
| Cleaning | Keeping the product in a good condition prolongs it's lifespan.Avoid unnecessary damage by following the guide below.• Remove stains immediately to avoidpermanent damage of the surface.• Place the product in a humidity and temperature stable environment, avoiding direct sunlight.• Avoid using sharp or hard objects on the product, as they might scratch or damage the surface.• Avoid pushing or pulling the product, when moving it, as this might damage the floor and the product.• Avoid tilting the chair onto two legs.• Avoid standing in the chair.• Avoid sitting on the back of the chair.• Avoid placing heavy objects on the product as it may damage the upholstery.Leather upholsteryWipe with a moist clean cloth wrung in wateror in a solution of mild soap and water. Remove any residue immediately using a clean dry cloth.Avoid using scouring cream or scouring pads on the surface, as they might damage the surface. Leather upholstery needs regular treatmentto avoid drying out. We recommend using furniture care products from Guardian.Veneer• Wipe with a moist clean cloth wrung in wateror in a solution of mild soap and water. Remove any residue immediately using a clean dry cloth.• Use products specifically suited for laminate and veneer, if the surface seems matt or scratched.• Avoid using scouring cream or scouring pads on the surface, as they might scratch or damage the surface.FrameWipe with a moist clean cloth wrung in water or in a solution of mild soap and water. Removeany residue immediately using a clean dry cloth. Avoid using scouring cream or scouring padson the surface, as they might scratch or damage the surface. |
| Custom_FSC | FSC 100% | FSC licens: FSC C159943 |
| Height | 81,5 |
| Width | 50,5 |
| Depth | 54,5 |
| Weight | 5,57 |
| Custom_SeatWidth_mm | 410 |
| Custom_SeatHeight_mm | 470 |
| Custom_SeatDepth_mm | 430 |
| Custom_Upholstery | Sørensen leather: Ultra - Cognac (Brandy) |
| Designer | SPARK |
| Brand | Eva Solo |
| Series | Dosina |
| Number | 702110003 |
| EAN | 5706631212014 |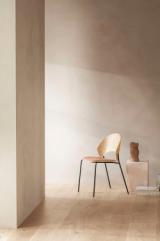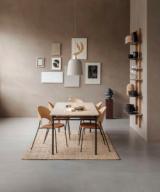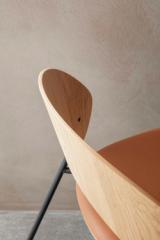 Description
The dining chair that proves its worth. During and after dinner.
We no longer 'withdraw' to the sitting room once dinner is over. With open-plan kitchens, the likelihood is that you remain seated at the dining table after a meal, so the dining chair has to be extra comfortable, and strike the right balance between functionality, comfort and aesthetics. Like the Dosina clam, the chair has an easily recognisable, fan-shaped silhouette, which emphasises the high level of comfort with its broad, embracing back.
With its simple design and despite its solid, broad back, the chair has a light and inviting feel, even when used in large numbers around an extended dining or conference table. The chair is stackable, so it's easy to keep an extra few chairs to hand as they will not take up much space.