Wall mounted HeatUp patio heater - Electric
Custom_USP1

Electric patio heater which delivers full power in 5 sec.

Custom_USP2

Up to 10 times cheaper than gas

Custom_USP3

Adjust the heat with the included remote control (3 levels)
Delivery from 5 EUR

Free delivery from 89 EUR
| | |
| --- | --- |
| Cleaning | Make sure that the power plug for the patio heater has been removed from the socket, and that the patio heater is completely cool before cleaning. Clean the patio heater using a damp well-wrung cloth and without using any cleaning agents. Do not spray-clean the patio heater, as the heater does not withstand water being sprayed directly on the heating element. Afterwards, wipe with a dry cloth. |
| Material | Aluminium,Silicone |
| Size | L88 cm |
| Height | 111 |
| Width | 34,5 |
| Depth | 34,5 |
| Weight | 4,33 |
| IP code | IP65 |
| Designer | Tools Design |
| Brand | Eva Solo |
| Series | HeatUp |
| Number | 571139 |
| EAN | 5706631206808 |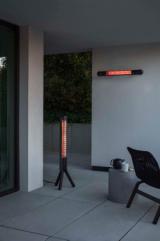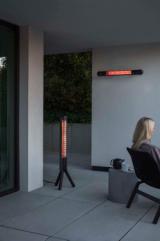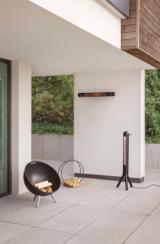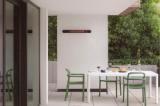 Description
Extend the summer season by turning up the heat on the patio on cool evenings. The discreet wall-mounted HeatUp patio heater provides optimum and directional heat and is easy to operate.
The patio heater has three heat settings. Press once for the maximum output (2500 W), once more for medium output (1650 W) and a third time for lowest output (825 W).
The innovative ULG+ heating lamp emits a much more pleasant light than we were used to in the past. The patio heater reduces your carbon footprint compared to gas heaters as it is electrically powered, with the added bonus that it never runs out of fuel. For using in all types of weather throughout the year.
Remote control
When you connect your patio heater to the power supply and switch on the main switch on the back of the appliance, a blue light will illuminate to indicate that the heater is switched on. The patio heater is operated by means of the accompanying battery-powered remote control (two AAA batteries not included). Insert the batteries into the remote control by removing the cover on the back.
When you switch on the heat using the remote control,
the blue light will switch off after 5 seconds. As soon
as you choose to switch off the heat using the remote
control, a stand-by lamp switches on to indicate that
the patio heater is connected to the power supply.
How to install your patio heater
Install your patio heater outdoors on a wall at a height of min. 1.85 metres. If you want to fit the patio heater under an awning etc. which is made of flammable material, you must ensure a min. distance of 35 cm. The patio heater must be installed horizontally.
Technical data
Voltage: 230 V AC
Frequency: 50-60 Hz
Wattage: 2,500 W
Min. fuse: 13 A
Certifications: GS, CE, TüV
Water resistance: IP65
Heat dispersion: 4.5 x 2.8 x 1.8 m
The patio heater can be fitted in three different positions with an angling of 0-48° from innermost to outermost fitting point.
Installation height: Min. 1.85 m.