UN SUSTAINABLE DEVELOPMENT GOALS
Through our commitment to contributing to more sustainable development, we are working to achieve selected UN Sustainable Development Goals (SDGs).
SDG 8 – DECENT JOBS AND ECONOMIC GROWTH
Goal 8.8: Protect labour rights and promote safe and secure working environments for all workers, including migrant workers, in particular women migrants, and those in precarious employment.
One of the areas where we are aware of our impact is throughout our supply chain. In support of SDG 8, we are focusing on responsible supply chains. In addition to upholding our Code of Conduct, we are a member of amfori BSCI – an international social audit system with the purpose of improving working conditions in global supply chains. We only wish to work with suppliers that as a minimum meet basic requirements aligned with recognised international standards. Through the BSCI platform, we evaluate our suppliers on a regular basis, and support them in providing responsible and safe working conditions for their workers. Furthermore, we make every effort to ensure that our suppliers produce in a way that does not have negative impact on the local environment.
SDG 12 – RESPONSIBLE CONSUMPTION AND PRODUCTION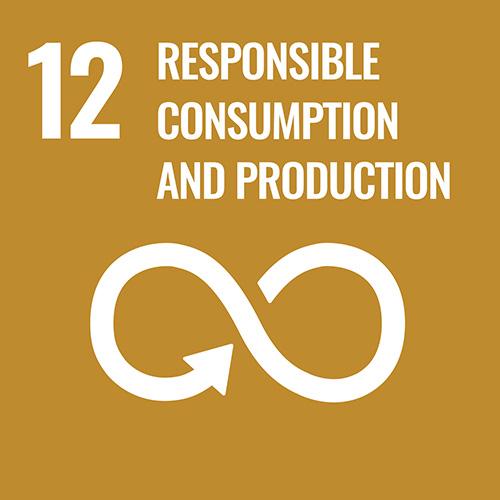 Goal 12.5: By 2030, substantially reduce waste generation through prevention, reduction, recycling and reuse.

Goal 12.6: Encourage companies, especially large and transnational companies, to adopt sustainable practices and to integrate sustainability information into their reporting cycle.
Another very important area of Eva Solo is the products we design, produce through manufacturing partners, and place on the market. Through our product development, there is a large potential for achieving more positive impact. To that end, we have initiated a focus on sustainable and circular design. According to the European Commission, approx. 80% of a product's environmental footprint is decided in the design process because of the materials chosen and how the product is designed. At Eva Solo, we have adopted a set of design principles that we will use for guidance going forward. In this regard, we also have an increasing focus on the materials we use in our products and we aim to ensure that they are as sustainable and responsible as possible.
Goal 15.2: Promote the implementation of sustainable management of all types of forests, halt deforestation, restore degraded forests and substantially increase afforestation and reforestation globally.
In support of SDG Life on Land, we have set ourselves the goal of becoming FSC®-certified. Going forward, our products made primarily of wood will be FSC-certified whenever possible. FSC, Forest Stewardship Council®, is an international certification body for responsible forest management. An FSC certification means that the wood used in the products originates from forests managed in a sustainable way that preserves biological diversity and benefits the lives of local people and workers, while ensuring it sustains economic viability. Furthermore, our paper-based packaging is increasingly sourced from responsible producers.
CLIMATE
While climate action is targeted specifically in SDG 13, our awareness of our responsibility related to climate change and global warming is addressed through our commitment to both SDG 12 and 15 by targeting responsible forest management, restoration and conservation in SDG 15; and sustainable materials and responsible production in SDG 12.
OFFICE AND WAREHOUSE
In addition to our efforts towards achieving the SDGs, we are also making continuous improvements at our office and warehouse premises. At the beginning of 2020, we switched to green energy from wind production, and our data and website are stored using green energy. We have a focus on buying more sustainable and responsible products for our offices, and we have a recycling system to ensure that we recycle as much as possible from our warehouse. Furthermore, we are updating our employee handbook so that all employees are aware of our policies and practices regarding sustainability.